ATWT & OLTL: Goodbye & Good Riddence
The spoilers I read plus the comings & goings makes me wanna puke if I actually watched these shows I'd be reaching for my barf bag. These  shows can learn a thing or two from a old soap called Edge of Night.  When you go too far out on the edge you can fall off it into cancellation hell! EON learned that the hard way in it's 28th year on the air.
GH: Loathe Carly But Like Laura Wright

I've been telling friends disgusted with their shows don't e-mail or snail mail the actor or actress & gripe! They only do what the writers--write for them it's not their fault. It's disgusting how they got Carly all wrapped up in Sonny's latest BS. When she needs to be working on her marriage because Jax is the best thing to ever happen to Carly.
DOOL: Casting Susan Banks Crumb et all

For many years E.J. has been on the canvas sans his mother Susan. Earth to Days Of Our Lives yes the role is re-casable Eileen Davidson is happy @ The Young and The Restless. There is other multitalented actress' out there that could play the multiple roles of Susan Banks Crumb plus Kristen DiMera if they can't find one middle aged actress to play the parts? They could just bring on somebody to play the role of Elvis Dimera's mummy. Because he's needed her for some time now to tell him how mean, mean, mean he is acting! There is several actress' from Passions that could pull it off Dana Sparks & Kim Johnston Ulrich also Rebecca Staab to name a few. Also some actress' from Guiding Light such as Kim Zimmer, Beth Chamberlin, Elizabeth Keifer. This is a character thats needed on the canvas ASAP if they get lucky & she can play Kristen too that would be the icing on the cake!
AMC: Rooting For David & Greenlee

After numerous changes & recasts for the worst David & Greenlee is the only reason I tune in to All My Children! They may be the town baddies but they don't pretend to be something they are not. After so many in the fictional town of Pine Valley puts on heirs & is so two faced. It's refreshing to have "REAL" characters that you can relate to. Davey & Greens make no apologies for being the way they are in a town full of hypocrites.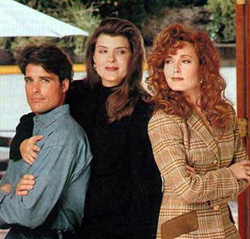 Y&R: Going To The Extremes!

This is my grandmothers soap & she plus friends in her age group are stunned & disgusted with this show & has quit watching! Sheila now looks just like Lauren? Now we're suppose to buy that she looked like Phyllis last time she was in town now she has Lauren's face? No plastic surgeon is that good! This show is reminding me more & more of Port Charles & Passions. I liked both of those shows for their cheese factor I watch The Young and The Restless for serious storytelling not cheesy stories. Is those shows still with us? No! They went too far out on a limb & fell off it into cancellation hell. (Above image is Lauren, Scott Sr, Sheila circa early 90's)
Web Series: Gotham Chad's thoughts Byrne Baby Burn!

Martha Byrne has a winner on her hands! I can't miss an episode of Gotham:The Series she knows how to put out a soap & keep the fans happy campers. Not since Knots Landing has a soap been my guilty pleasure.